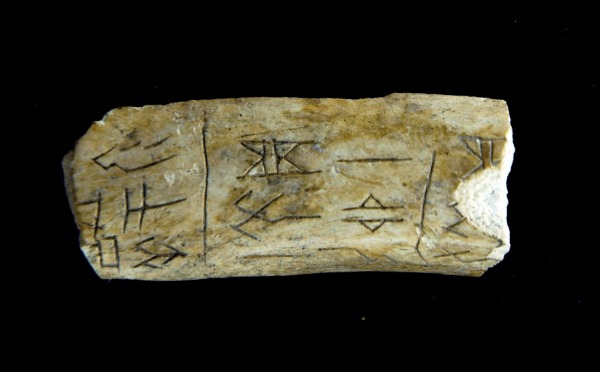 Ancient oracle bone inscriptions-the earliest documentary evidence found in China-became the 13th Chinese documentary heritage inscribed on the UNESCO Memory of the World Register, a senior official from the State Archives Administration said on Tuesday.
Excavated in 1899 from the Yin ruins in Anyang, Henan province, the oracle bone inscriptions are prototypes of modern-day Chinese characters and the embodiment of the continuous evolution of Chinese civilization.
They provide records of divinations and prayers to the gods from people in the late Shang Dynasty (c.16th century-11th century BC).
Wang Shaozhong, deputy head of the State Archives Administration, said the oracle bone inscriptions are the latest Chinese documentary heritage put on the list since China's Traditional Music Sound Archives were inscribed in 1997.
"With abundant documentary heritage, China will strive to have more such relics recognized to promote traditional Chinese culture," he said.
Oracle bone inscriptions were added to the Memory of the World Register on Oct 30, and Tuesday's news conference represents the official announcement by Chinese authorities of the inscription. Those authorities include the Ministry of Education, State Language Commission and four other departments.
The most recently added Chinese documentary evidence includes "The Archives of Suzhou Silk from Modern and Contemporary Times" in 2017 and "The Archives of the Nanjing Massacre" in 2015.
Marielza Oliveira, director of UNESCO's Beijing office and representative to China, said oracle bone inscriptions, which preserve the archival records of the Shang royalty, represent "significant academic and cultural values".
"These valuable inscriptions from China ... demonstrate that the memory recorded in the documentary heritage is an irreplaceable way of transmitting tradition, culture and historical awareness, and therefore a fundamental heritage which should be safeguarded," she said.
Du Zhanyuan, vice-minister of education, said that Chinese characters have contributed to Chinese culture. As its prototype, the oracle bone inscriptions being added to the list shows their contributions have been recognized.
UNESCO's International Register now includes 427 documents and collections from 107 countries.