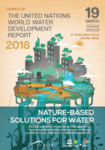 WWAP at the 8th World Water Forum
WWAP at the 8th World Water Forum
Last modified: 14 March 2018
The World Water Assessment Programme of UNESCO (WWAP) is co-convening the following events during the 8th World Water Forum, taking place in Brasilia (Brazil), 18-23 March:
19 March, 14:30 – 16:00, Special Session:
'Global launch of the United Nations World Water Development Report 2018 on 'Nature-based Solutions for Water'
Please find attached the agenda of the WWDR 2018 Launch.
21 March, 11:00 – 12:30, Special Session:
'Global Monitoring and Reporting of SDG 6'
22 March, 09:00 – 10:30, Theme Session:
'World Water Day Celebration'
Join us there!
For more information, visit WWAP website.
Launch of The United Nations World Water Development Report 2018